Students learn about the business world through comprehensive, cross-cutting, practical studies in the fields of management and business studies, accounting, and economics.
While tapping into the traditional disciplinary framework of management studies, accountancy, and economics, the Department of Business offers a curriculum featuring practical subjects required in the real world of business. The department cultivates individuals with practical skills in various fields of business through active learning programs undertaken in partnership with companies, local governments, and NPOs.
Department of Business,
Major of
Modern Business
Business Innovation Course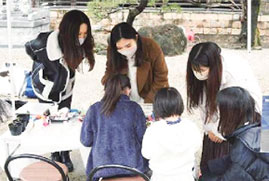 Providing attractive services satisfies existing customers while creating new ones. Through active learning focused on that process, this program cultivates individuals capable of creating new value.
Business Accounting Course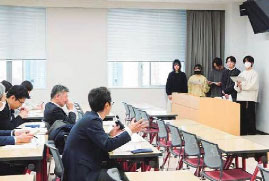 After gaining an understanding of the language of business (=accounting), students use financial statements to analyze companies' profitability, safety, and growth potential. These analyses help to cultivate individuals capable of supporting the formulation and implementation of business strategies.
Department of Business,
Major of
Global Business
On this bilingual program, students learn about global business trends and the economic and financial situations through the medium of both Japanese and English. These studies help to cultivate individuals with experience of business in the real world, who can play an active role on the global business stage.