Students consider universal design, examining human comfort through the lenses of psychology and information science, while also taking into account the age of AI.
The faculty offers three majors: Information Systems, Psychological Informatics, and Information Design. Rather than choosing a major at the time of admission, students spend their first year gaining an understanding of the realms of study involved in each. Students then select the major on which they will focus from their second year and progressively deepen their knowledge of the specialist field they have chosen. Courses from the third year onward are determined on the basis of each student's graduation project.

Department of Human Informatics
The "Human Dynamics Series," "Psychology Series," and "Library and Information Science" special courses provide a scientific, logical, and empirical look at information society.
After providing a basis in "human understanding," "information use," and "manufacturing," the department splits into three areas of specialty for students to pursue studies in these more specialized areas. The department also aims to have students acquire further specialized knowledge and qualifications through the "distinctive educational programs" and "qualification acquisition programs" unique to each specialty area. The knowledge and skills that students acquire over their four years here can be applied to all industries in wider society.
Major in Information Design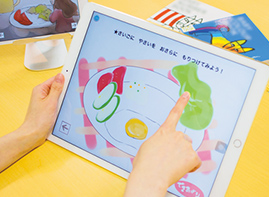 Considering effective products and services from the perspectives of human perception and universal design
After learning the basics about computers and sensory information processing, students systematically study the knowledge and skills required to effectively design information services, products, and spaces from the perspectives of human perception and universal design. Students gain the ability to propose and create a rich, human-friendly digital life, thereby enabling them to contribute to the society of the future.
Major in Psychological Informatics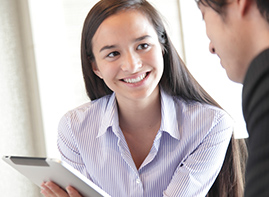 Analyzing and understanding the human mind and behavior to grasp the needs of an advanced information-based society
Students undertake comprehensive studies of how humans perceive the environment around them and behave, with a primary focus on psychology, while also incorporating such perspectives as neuroscience, behavioral science, and ergonomics. Students also learn techniques for measuring and evaluating human traits and gain the ability to formulate specific plans based on the needs of an advanced information-based society.
Major in Information Systems
Understanding the features of humans and information to develop and provide information systems
Students learn the knowledge and skills required to: empirically analyze and understand the features of human and organizational information use and information resources; design and develop useful, user-friendly apps and information systems; and deliver services that use a variety of information resources. Students also gain the ability to contribute to libraries and the publishing and distribution sector, as well as to companies that find value in information.